East Brook Middle School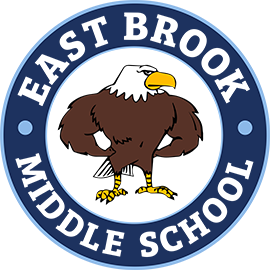 Welcome to East Brook Middle School's online home. We are part of Paramus Public Schools located in New Jersey, and are home to approximately 650 fifth through eighth grade students. We are proud to have some of the best students, parents, teachers, and administrators around! Please take a few minutes to click around, and see what East Brook can offer your child. If you have any questions, feel free to contact us.
Fast Facts
District: Paramus
Colors: Navy and White
Mascot: Eagles
Population: 620
Grades: 5–8
A Message from Our Principal
Dear East Brook Families,
It's always been our goal to provide our students with a safe and positive learning environment for their middle school experience. That goal is only attainable as a team. We believe in students, parents, faculty, and staff working together to create the best possible environment in which our students can grow educationally, emotionally, and socially.
Students, I encourage you to work hard both in and out of the classroom, to be kind, and to take advantage of new opportunities during your years at East Brook and beyond. These are the building blocks of a foundation that will prepare you to succeed in an ever-changing world.
If you have any questions or concerns, please do not hesitate to reach out to me.
Sincerely,
Ryan Aupperlee
Principal
What's New
Secrets to Raising a Successful Student
Raising a child to have a love of learning and a desire to succeed is much like walking a tight rope. You can make the learning process fun and exciting. Read more...